Stumholmen
Address: Stumholmen, 371 32 Karlskrona
Show map

Address: Stumholmen, 371 32 Karlskrona

The pulse of history is heard clearly over the island, which once was a warehouse for the sailing fleet's food supply
After 300 years as a closed military area, the island Stumholmen was transformed in 1993 into a civilian section of the city. Among waterside houses and work places and at the lovely swimming beach, history lives on. This is where you will find the Naval Museum, Karlskrona's foremost visitor attraction. The museum is an architectural masterpiece, with its 140-metreplus structure extending right out over
the water! The museum also incorporates the interesting Sloop and Longboat Shed with boat displays. The old hangars from the pioneering days of aviation and Kungshall storehouse are other interesting attractions.

The island played host to the Building Fair in 1993, and the Naval Museum was opened in 1997.
Show more
Hotel
Distance: 833 meters
The Clarion Collection Hotel Carlscrona is a stunning hotel situated right next to the sea and only 5 minutes from the train station. You certainly won't go hungry at the hotel with both complimentary Afternoon Sweets and an Evening Meal served every day.
Hotel
Distance: 883 meters
Welcome to Hotel Aston, a hotel with a naval character in the middle of Karlskrona , a beautiful little hotel with a naval character in the middle of Karlskrona. Wireless internet is available in lobby and in all our rooms The continental breakfast is generous and you can help yourself to coffee and tea whenever you like. On weekdays, except during summer, we also offer waffles.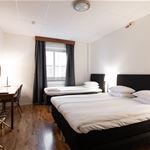 Hotel
Distance: 847 meters
Just a few minutes walking distant from the Hotel you will find the city pulse with a great variety of shops, restaurants, pubs and coffeehouse. The hotel is privately owned with personal service and modern IT. The hotel is in the centre of Karlskrona and have one of Sweden's largest squares as a view.