Beaches in Karlskrona
Karlskrona can offer a large variaty of beautiful beaches: Aspö, Björkenäs, Coldinubadet (The Coldinubath(Hästö)), Dragsö, Gisslevik, Hallarum, Hjortahammar, Knipehall, Knösö, Kristianopel, Långö, Petersvik (Torhamn), Olsäng, Ringö, Saltö, Sandvik, Senoren, Sjuhalla, Skönstavik, Slätthammar, Studentviken, Stumholmen, Tallholmen, Tjurkö, Trummenäs, Utlängan and Uttorp.

Karlskrona can also offer a large variaty of beautiful lakes, which are ideal for swimming. Lake (swimming): Alljungen (Nävragöl, Allsjön (Flymen), Bredasjön (Holmsjö), Fabbesjön (Kättilsmåla), Lösensjön (Ramdala), Mörtsjöåsen (Rödeby), Nävrasjön (Nävragöl), Skälagölen (N of Nättraby), Skärsjön (Tving) Stensjön (Nävragöl), Stora Havssjön (Kättilsmåla), Västersjön (Saleboda) and Yasjön (NE of Rödeby)

In the link below you will find a map over Karlskrona where all bathing spots are marked.
Show more
About this activity
Phone number

Contact

E-mail

Web page

External links
Hotel
Distance: 936 meters
Welcome to the Clarion Collection Hotel Carlscrona The Clarion Collection® Hotel Carlscrona is conveniently located in the center of the World Heritage historic city of Karlskrona, by the Baltic Sea. The harbor in the archipelago of Blekinge is adjacent to this Karlskrona, Sweden hotel. The hotel is also close to The Naval Museum (Marin Museum) and the Blekinge Institute of Technology.
Hotel
Distance: 919 meters
Welcome to Hotel Aston, a hotel with a naval character in the middle of Karlskrona , a beautiful little hotel with a naval character in the middle of Karlskrona. Wireless internet is available in lobby and in all our rooms The continental breakfast is generous and you can help yourself to coffee and tea whenever you like. On weekdays, except during summer, we also offer waffles.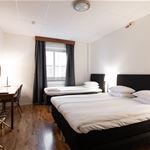 Hotel
Distance: 850 meters
Just a few minutes walking distant from the Hotel you will find the city pulse with a great variety of shops, restaurants, pubs and coffeehouse. The hotel is privately owned with personal service and modern IT. The hotel is in the centre of Karlskrona and have one of Sweden's largest squares as a view.