Lecture: War propaganda in superpower Sweden
Date: Wednesday 13 nov 2019 - Wednesday 13 Nov 2019
Show map
During the 1600s, Sweden expanded and became a great power. But the price was high. Half a million Swedish soldiers paid with their lives. In order to get people to line up for the wars, the state power used advanced propaganda.
The governing bodies could reach almost all people in society with their information, but that did not mean that they were informed about everything. The victories became big news, but the defeat is aggravated. Anna Maria Forssberg, a researcher, tells us about war propaganda in Sweden's great power.

The lecture is done in collaboration with Folkuniversitetet.
Free entrance
Warm welcome!
Show more
Date

Time

Location

Wednesday 13 nov 2019
5:30 PM

- 6:30 PM

Marinmuseum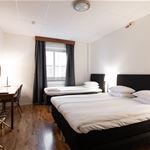 Hotel
Distance: 884 meters
Just a few minutes walking distant from the Hotel you will find the city pulse with a great variety of shops, restaurants, pubs and coffeehouse. The hotel is privately owned with personal service and modern IT. The hotel is in the centre of Karlskrona and have one of Sweden's largest squares as a view.
Hotel
Distance: 922 meters
Welcome to Hotel Aston, a hotel with a naval character in the middle of Karlskrona , a beautiful little hotel with a naval character in the middle of Karlskrona. Wireless internet is available in lobby and in all our rooms The continental breakfast is generous and you can help yourself to coffee and tea whenever you like. On weekdays, except during summer, we also offer waffles.
Hotel
Distance: 867 meters
The Clarion Collection Hotel Carlscrona is a stunning hotel situated right next to the sea and only 5 minutes from the train station. You certainly won't go hungry at the hotel with both complimentary Afternoon Sweets and an Evening Meal served every day.