ARK56 - trails for kayaking, hiking, cycling and sailing
Show map

ARK56 is a network of trails for kayaking, hiking and cycling through the Unesco biosphere reserve Blekinge Arkipelag.
Winding gravel roads, calm bays, deserted isles and open sea - ARK56 is a network of trails that guides you through the Blekinge archipelago, along side and on its beautiful waters.

Experience nature and culture at foot, in a kayak, by bike or boat - it's your choice. 13 hubs ties the trails together, offering food, acommodation and experiences. In Karlskrona you will find the following eight hubs along the archipelago trail: Hasslö (Garpahamnen), Aspö (Lökanabben), Sturkö (Bredavik), Karlskrona (Stadsmarinan), Senoren (Brofästet), Stenshamn, Torhamn and Kristianopel.

Read more via the webpage below.
Show more
Hostel
Distance: 2.3 km
STF Aspö/Lotstorn is located in a beautiful environment in the Karlskrona archipelago. The tower was built in 1944 and was used to guide steering boats. The lower part of the tower used to be a dugout, and the upper part gave clear view over the sea.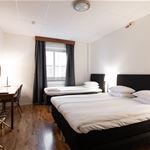 Hotel
Distance: 4.2 km
Just a few minutes walking distant from the Hotel you will find the city pulse with a great variety of shops, restaurants, pubs and coffeehouse. The hotel is privately owned with personal service and modern IT. The hotel is in the centre of Karlskrona and have one of Sweden's largest squares as a view.
Hotel
Distance: 2.3 km
Come and visit our unique hotel and conference centre in the middle of the archipelago of Karlskrona. Here you can rent a room with a view in all four directions. Enjoy the sun and a swim in the sea or rent a canoe and explore the coast.