Do you want to organize a different party, dinner or archipelago trip for your friends or company? Chater the charming archipelago boat Södern II!
The Södern II can accommodate 90 passengers or 50 seated guests. The Södern II will pick you up in town or in the archipelago and take you on a trip on the basis of your request, and the captain's knowledge of wind and waves. The Södern II runs all year round as long as there is no ice.

The Södern II was built at Hasslö boatyard and the skipper Ernst Olsson was responsible for the traffic between Aspö and Karlskrona. In 1953 to 1981, the ship operated the trail Lökanabben at Aspö and Fiskorget in Karlskrona. The Södern generally called the "boat" was Aspö's link with the mainland and almost everything was transported with it.
Show more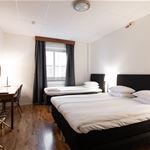 Hotel
Distance: 6.7 km
Just a few minutes walking distant from the Hotel you will find the city pulse with a great variety of shops, restaurants, pubs and coffeehouse. The hotel is privately owned with personal service and modern IT. The hotel is in the centre of Karlskrona and have one of Sweden's largest squares as a view.
Hotel
Distance: 719 meters
Come and visit our unique hotel and conference centre in the middle of the archipelago of Karlskrona. Here you can rent a room with a view in all four directions. Enjoy the sun and a swim in the sea or rent a canoe and explore the coast.
Hostel
Distance: 719 meters
STF Aspö/Lotstorn is located in a beautiful environment in the Karlskrona archipelago. The tower was built in 1944 and was used to guide steering boats. The lower part of the tower used to be a dugout, and the upper part gave clear view over the sea.