Aspo church was completed in 1891. The church is built of brick, as were transported in large cargo skiffs from Nättraby. The stones to the foundation of the Church was taken from and cut on the island. Builder Carl Johnsson.
Aspo church was built in neo-Gothic style. Organ gallery is located above the porch and above rises the tower with a bell.

The furniture is contemporary with the church. Ahead of the 100th anniversary restored the original colors in the choir, the altar and the pulpit.

The church has 200 seats.
Show more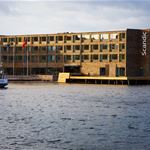 Hotel
Distance: 6.5 km
The hotel has a central location by the water in Karlskrona. Exciting activities, cultural sights and fun for the whole family are only a stone's throw away.
Hostel
Distance: 2.5 km
STF Aspö/Lotstorn is located in a beautiful environment in the Karlskrona archipelago. The tower was built in 1944 and was used to guide steering boats. The lower part of the tower used to be a dugout, and the upper part gave clear view over the sea.
Hotel
Distance: 2.5 km
Come and visit our unique hotel and conference centre in the middle of the archipelago of Karlskrona. Here you can rent a room with a view in all four directions. Enjoy the sun and a swim in the sea or rent a canoe and explore the coast.