Football matches Division 2 East
2019-04-06 14:00 FK Karlskrona - Nosaby IF
Västra Mark IP
2019-04-22 15:00 FK Karlskrona - Nässjö FF
Västra Mark IP
2019-05-04 14:00 FK Karlskrona - Råslätts SK
Västra Mark IP
2019-05-18 14:00 FK Karlskrona - IFK Hässleholm
Västra Mark IP
2019-05-30 14:00 FK Karlskrona - Räppe GOIF
Västra Mark IP
2019-06-08 14:00 FK Karlskrona - Österlen FF
Västra Mark IP
2019-06-19 19:30 FK Karlskrona - Hässleholms IF
Västra Mark IP
2019-06-28 19:00 FK Karlskrona - Asarums IF FK
Västra Mark IP
2019-08-10 14:00 FK Karlskrona - Husqvarna FF
Västra Mark IP
2019-08-24 14:00 FK Karlskrona - IFÖ Bromölla IF
Västra Mark IP
2019-09-06 19:00 FK Karlskrona - IFK Berga
Västra Mark IP
2019-09-13 19:00 FK Karlskrona - FK Älmeboda/Linneryd
Västra Mark IP
2019-10-05 14:00 FK Karlskrona - Dalstorps IF
Västra Mark IP

Price: Free admission for children and youth 0-18 years
Season card = membership card
Single match 80 SEK
You can pay with swish or cash
Hotel
Distance: 2.4 km
Welcome to the Clarion Collection Hotel Carlscrona The Clarion Collection® Hotel Carlscrona is conveniently located in the center of the World Heritage historic city of Karlskrona, by the Baltic Sea. The harbor in the archipelago of Blekinge is adjacent to this Karlskrona, Sweden hotel. The hotel is also close to The Naval Museum (Marin Museum) and the Blekinge Institute of Technology.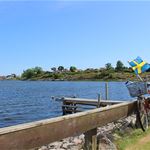 Hostel
Distance: 2.5 km
Dragsö Camping & Stugby is located close to the beach in the Blekinge archipelago, 3 km from central Karlskrona. Modern cottages and seaside camping pitches available.
B & B
Distance: 2.1 km
Stay at a magical 200 year old mansion right next to the Baltic Sea, which today is a Seminar, Event- and Guesthouse and is surrounded by a beautiful nature reserve.