Guided tour Kulturkompaniet - Drottningskärs citadel
Category:
Events, Guided Tours, World Heritage
Date: Wednesday 26 jun 2019
- Wednesday 14 Aug 2019
Follow Kulturkompaniet on an exciting guided tour around Karlskrona.
Join us on a guided tour in one of Sweden's most well-preserved defenses from the Great Power era. Drottningskär's citadel has prevented both the Russian fleet and the British fleet from attacking Karlskrona.

Language Swedish
Lenght: 60 min
Price: 100 SEK
Children under 12 years join for free.

Tickets are sold online at Nortic.se and at the Tourist Office in Karlskrona
Hotel
Distance: 501 meters
Come and visit our unique hotel and conference centre in the middle of the archipelago of Karlskrona. Here you can rent a room with a view in all four directions. Enjoy the sun and a swim in the sea or rent a canoe and explore the coast.
Hostel
Distance: 496 meters
STF Aspö/Lotstorn is located in a beautiful environment in the Karlskrona archipelago. The tower was built in 1944 and was used to guide steering boats. The lower part of the tower used to be a dugout, and the upper part gave clear view over the sea.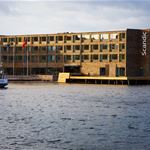 Hotel
Distance: 5.9 km
The hotel has a central location by the water in Karlskrona. Exciting activities, cultural sights and fun for the whole family are only a stone's throw away.