Guided tour - The Old Navy Shipyard incl. boat trip
Category:
Events, Guided Tours, World Heritage
Come along on an exciting tour out to Karlskrona's heart of the UNESCO world heritage, The Old Shipyard on Lindholmen in Karlskrona.
The heart of Karlskrona's world heritage lies in the old shipyard which has been left untouched since its glory days back in the 18th century. The last centuries most of the navy's dockyard production has been moved to the "new dockyard" located on Trossö.
The shipyard on Lindholmen has played an important role through time by creating ropes, repairing and servicing ships in Polhemsdockan – Sweden's oldest dry dock, which is still in use today.
The area is filled with historic scenes and building which all our visitors get to experience during this tour.
The guide is a legitimate rope maker from VHFK (Historic shipyard compound in Karlskrona) who has great knowledge about how the shipyard has been of use.

The archipelago boat M/F Ljungskär will depart from Fisktorget in Karlskrona which will take you out to Lindholmen. This gives you a small taste as of what Karlskrona archipelago has to offer!

Dates: 3/6 - 31/8
Daily between 10:00 - 12:00 with the exception of 20-23rd of June.
Gathering site: Fiskorget, Karlskrona
Languages: Swedish and English
Boat: M/F Ljungskär or M/F Gåsefjärden

Prices:
Adult - 250 SEK
Youth 7 to 19 years - 100 SEK
Children under 0-6 years - Free

Tickets must be pre-booked and paid at Karlskrona Tourist Office.

Before you're able to go on the guided tour there are some requirements that need to be met. There is a limited number of places on this tour, so pre-booking in good time is a requirement. The sale ends 30 minutes before the tour departs. Every participant has to give away their first and last name, nationality and passport numbers.
To complete your booking we also need a phone number.
Everyone above the age of 18 also has to bring along a legitimate ID on the tour.
The reason behind this is that the Old Navy Shipyard is a restricted military area.
No dogs allowed on the tour!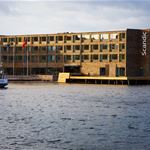 Hotel
Distance: 76 meters
The hotel has a central location by the water in Karlskrona. Exciting activities, cultural sights and fun for the whole family are only a stone's throw away.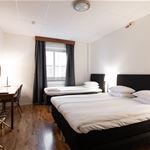 Hotel
Distance: 382 meters
Just a few minutes walking distant from the Hotel you will find the city pulse with a great variety of shops, restaurants, pubs and coffeehouse. The hotel is privately owned with personal service and modern IT. The hotel is in the centre of Karlskrona and have one of Sweden's largest squares as a view.
Hotel
Distance: 310 meters
Welcome to Hotel Aston, a hotel with a naval character in the middle of Karlskrona , a beautiful little hotel with a naval character in the middle of Karlskrona. Wireless internet is available in lobby and in all our rooms The continental breakfast is generous and you can help yourself to coffee and tea whenever you like. On weekdays, except during summer, we also offer waffles.