Aspö Lotstorn, STF Hostel
Address

: Lotsbackavägen 20, 37022 Drottningskär
show map
Location: Karlskrona
Hostel | STF Aspö/Lotstorn is located in a beautiful environment in the Karlskrona archipelago. The tower was built in 1944 and was used to guide steering boats. The lower part of the tower used to be a dugout, and the upper part gave clear view over the sea.
The top floor has two bedrooms, and the lower part has four bedrooms that are named after the lighthouse you can spot from each room. There are also three cabins with three double rooms in each. The guests in the cabins can visit top part of the tower located on the seventh floor at any time and enjoy the marvelous views.
Aspö is ideal for hiking and kayaking. In the nearby town of Karlskrona, the Marine museum with a submarine exhibition will open in 2013. The Porcelain museum and Blekinge museum are worth a visit as well.
From the tower you have a fabulous view over both sea and archipelago, and it is a perfect place to meditate.
Contact information
Phone number

Phone number (booking)

E-mail
Compare "Aspö Lotstorn, STF Hostel" with similar alternatives
Come and visit our unique hotel and conference centre in the middle of the archipelago of Karlskrona. Here you can rent a room with a view in all four directions. Enjoy the sun and a swim in the sea or rent a canoe and explore the coast.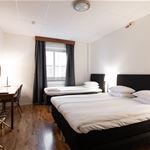 Just a few minutes walking distant from the Hotel you will find the city pulse with a great variety of shops, restaurants, pubs and coffeehouse. The hotel is privately owned with personal service and modern IT. The hotel is in the centre of Karlskrona and have one of Sweden's largest squares as a view.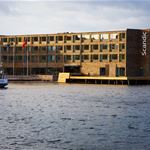 The hotel has a central location by the water in Karlskrona. Exciting activities, cultural sights and fun for the whole family are only a stone's throw away.