Aspö Lotstorn, STF Hotel
Address

: Lotsbackavägen 20, 37022 Drottningskär
show map
Location: Karlskrona
Hotel | Come and visit our unique hotel and conference centre in the middle of the archipelago of Karlskrona.
Here you can rent a room with a view in all four directions. Enjoy the sun and a swim in the sea or rent a canoe and explore the coast.
In the tower there are five rooms, one on each floor. The two bottom rooms have beds fixed to the wall (like bunks on a ship) and the romms on floor three to five have a double bed and a sofa/sitting chair bed. All the rooms have a bathroom with a shower and windows in all four directions. The rooms are named after the lighthouse you can see from that floor: Godnatt, Dockan. Utklippan, Angöringen and Utlängan. On the top floor there is a lookout room named Utkiken

In the reception building all meals are served. There is also the conference room and possibility for the tower's guests to watch tv.

Take the ferry to Karlskrona and visit the Maritime museum or view the many sights that have rendered the town a World heritage marking. Or stay on Aspö and take a ride on an Icelandic horse or visit Drottningskär, a citadel from the 17th century. There you can have dinner in a hall with meter thick stonewalls and then take a walk back to the tower in the light summer night. Sit a while in the lookout room on the top floor of the tower and enjoy the fantastic view of the archipelago and an unbroken horizon in the south.

We wish you very welcome! Sven-Erik and Ellinor Löfgren with staff
Contact information
Phone number

Phone number (booking)

E-mail

Web page
Compare "Aspö Lotstorn, STF Hotel" with similar alternatives
STF Aspö/Lotstorn is located in a beautiful environment in the Karlskrona archipelago. The tower was built in 1944 and was used to guide steering boats. The lower part of the tower used to be a dugout, and the upper part gave clear view over the sea.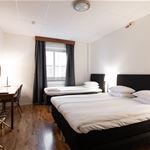 Just a few minutes walking distant from the Hotel you will find the city pulse with a great variety of shops, restaurants, pubs and coffeehouse. The hotel is privately owned with personal service and modern IT. The hotel is in the centre of Karlskrona and have one of Sweden's largest squares as a view.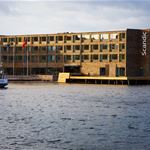 The hotel has a central location by the water in Karlskrona. Exciting activities, cultural sights and fun for the whole family are only a stone's throw away.