Guided tour during the world heritage days 2019 - Old Shipyard
Kategorie:
Veranstaltungen, Führungen, World Heritage
Datum: Samstag 26 okt 2019
- Sonntag 27 Okt 2019
Guided tour of the Old Naval Shipyard at Lindholmen in the Naval base.
VHFK (Shipyard History Association in Karlskrona) welcomes you on a guided tour.
Viewing of Wasa shed, Rope making factory, Game Hunt and keel blocks for projects with timber and liners. Take part in short films and get information on ongoing projects.
2.5 h

Maximum 25 people.

Pre-registration / ticket required - via Karlskrona Tourist Office.
NOTE! ON REGISTRATION, NAME AND FULL PERSONAL NUMBER CODE / ID CARD NUMBER / PASSPORT NUMBER MUST BE SUBMITTED! A valid ID is required on the tour.
Hotel
Entfernung: 1,2 km
Welcome to Hotel Aston, a hotel with a naval character in the middle of Karlskrona , a beautiful little hotel with a naval character in the middle of Karlskrona. Wireless internet is available in lobby and in all our rooms The continental breakfast is generous and you can help yourself to coffee and tea whenever you like. On weekdays, except during summer, we also offer waffles.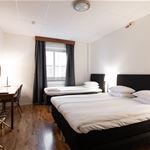 Hotel
Entfernung: 935 Meter
Just a few minutes walking distant from the Hotel you will find the city pulse with a great variety of shops, restaurants, pubs and coffeehouse. The hotel is privately owned with personal service and modern IT. The hotel is in the centre of Karlskrona and have one of Sweden's largest squares as a view.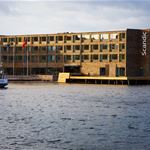 Hotel
Entfernung: 1,2 km
The Scandic Karlskrona hotel opened on 15 March 2010. The hotel has a central location by the waterside on Karlskrona's largest island Trossö. From our hotel in Karlskrona you stay close to all this naval town has to offer. Exciting activities, cultural sights and fun for the whole family are only a stone's throw away.