Evening tale: Horror and superstition? About the usage and traditions among sailors
Kategorie:
Veranstaltungen, Vorlesungen
Datum: Mittwoch 6 nov 2019
Man has always practiced different rites and customs; some are associated with solemn celebrations during the year while others have been more mundane. Not infrequently the everyday rites have been aimed at bringing good luck and preventing misery. Some call it superstition, folk belief or maybe even sort of magic, but in a time other than ours it was obvious and not at least for past sailors.
As important as it was not to whistle aboard a ship, it was just as important to place an offering coin under its mast; everything to keep up with the creatures believed to prevail in and around the ocean.

You will hear about this and more during a storytelling evening at the Marine Museum. Some items that are not usually shown in our collections will be visible.

Lecturer: Jessica Lindström

Collection at the Information Desk
Maximum number of 30 people

Free entrance.

Welcome!
Datum

Uhrzeit

Veranstaltungsort

Mittwoch 6 nov 2019
17:30

- 18:30

Marinmuseum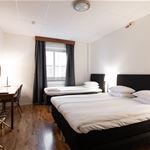 Hotel
Entfernung: 884 Meter
Just a few minutes walking distant from the Hotel you will find the city pulse with a great variety of shops, restaurants, pubs and coffeehouse. The hotel is privately owned with personal service and modern IT. The hotel is in the centre of Karlskrona and have one of Sweden's largest squares as a view.
Hotel
Entfernung: 922 Meter
Welcome to Hotel Aston, a hotel with a naval character in the middle of Karlskrona , a beautiful little hotel with a naval character in the middle of Karlskrona. Wireless internet is available in lobby and in all our rooms The continental breakfast is generous and you can help yourself to coffee and tea whenever you like. On weekdays, except during summer, we also offer waffles.
Hotel
Entfernung: 867 Meter
The Clarion Collection Hotel Carlscrona is a stunning hotel situated right next to the sea and only 5 minutes from the train station. You certainly won't go hungry at the hotel with both complimentary Afternoon Sweets and an Evening Meal served every day.