Concert: You can't learn old dogs how to sit
Kategorie:
Veranstaltungen, Konzerte & Musik, Übrige
Datum: Mittwoch 18 dez 2019
Music and anecdotes about Fredrik II of Prussia. Enlightened despot, musician, military strategist, philosopher - Fredrik the Great is often described as a king of contradictions. He pushed through his ideas in a disciplined and successful manner.
But the plan to get the starving peasants to grow the then unknown nutritious potato turned out to be a hard-cracked nut. The suspicion of the oval tuber was great and the grain tradition was too strong. It is difficult to teach old dogs how to sit ...

Over the years, Fredrik became as stubborn as the peasants he once so eagerly wanted to convince and preferred his dogs' company over his advisers. Stubbornness can also be a blessing - what a fortune that Fredrik the Great loved music! With great generosity he caused the music life to flourish and develop in a very own direction - die Berliner Schule.

Emelie Roos - recorder Hanna Thiel - violin Dohyo Sol - theorbo

Location: Galjonshallen, Marine Museum
Free entrance.
Datum

Uhrzeit

Veranstaltungsort

Mittwoch 18 dez 2019
17:30

- 18:30

Marinmuseum
Hotel
Entfernung: 867 Meter
The Clarion Collection Hotel Carlscrona is a stunning hotel situated right next to the sea and only 5 minutes from the train station. You certainly won't go hungry at the hotel with both complimentary Afternoon Sweets and an Evening Meal served every day.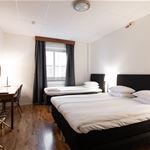 Hotel
Entfernung: 884 Meter
Just a few minutes walking distant from the Hotel you will find the city pulse with a great variety of shops, restaurants, pubs and coffeehouse. The hotel is privately owned with personal service and modern IT. The hotel is in the centre of Karlskrona and have one of Sweden's largest squares as a view.
Hotel
Entfernung: 922 Meter
Welcome to Hotel Aston, a hotel with a naval character in the middle of Karlskrona , a beautiful little hotel with a naval character in the middle of Karlskrona. Wireless internet is available in lobby and in all our rooms The continental breakfast is generous and you can help yourself to coffee and tea whenever you like. On weekdays, except during summer, we also offer waffles.