Lecture: My father was a sailor on a Polish submarine
Kategorie:
Veranstaltungen, Vorlesungen, Übrige
Datum: Mittwoch 25 sep 2019
Håkan Pieniowski, an award-winning documentary filmmaker, tells a personal story about his father Zdzislaw Pieniowski who stayed in Sweden and is buried at Mariefred's cemetery along with several of his submarine friends.
"September 17, 1939, the Polish submarine SEP is spotted by the lookout at Landsort. There begins my story of my father who was a young sailor on board. After 44 German sink bombs, the submarine was damaged and sought an emergency port in Sweden. In 1940, my father ended up in a detention camp in Mariefredsviken by the Lake Mälaren. In 1942 he marries my mother Marianne Johansson ".

Warm welcome!

The lecture is done in collaboration with Folkuniversitetet.
Datum

Uhrzeit

Veranstaltungsort

Mittwoch 25 sep 2019
17:30

- 18:30

Marinmuseum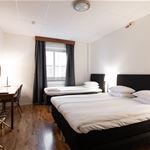 Hotel
Entfernung: 884 Meter
Just a few minutes walking distant from the Hotel you will find the city pulse with a great variety of shops, restaurants, pubs and coffeehouse. The hotel is privately owned with personal service and modern IT. The hotel is in the centre of Karlskrona and have one of Sweden's largest squares as a view.
Hotel
Entfernung: 922 Meter
Welcome to Hotel Aston, a hotel with a naval character in the middle of Karlskrona , a beautiful little hotel with a naval character in the middle of Karlskrona. Wireless internet is available in lobby and in all our rooms The continental breakfast is generous and you can help yourself to coffee and tea whenever you like. On weekdays, except during summer, we also offer waffles.
Hotel
Entfernung: 867 Meter
The Clarion Collection Hotel Carlscrona is a stunning hotel situated right next to the sea and only 5 minutes from the train station. You certainly won't go hungry at the hotel with both complimentary Afternoon Sweets and an Evening Meal served every day.