Sunday fun at the Navalmuseum
Kategorie:
Veranstaltungen, Familie & Kinder
Datum: Sonntag 3 nov 2019
What can you possibly find for strange gadgets and things on the bottom of the sea in ​​the future?
How will the people of the future understand us and what will we leave behind in the seas?
This is an opportunity to both get to know real marine archaeological finds and to think together about important future issues.
Adults participate with their children and get the chance to discover, listen, watch and learn together. It can be about theater, concerts, model building, watercolor painting, playing marine archaeologist, and more
Welcome!
Datum

Uhrzeit

Veranstaltungsort

Sonntag 3 nov 2019
13:00

- 14:00

Marinmuseum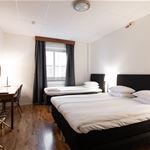 Hotel
Entfernung: 884 Meter
Just a few minutes walking distant from the Hotel you will find the city pulse with a great variety of shops, restaurants, pubs and coffeehouse. The hotel is privately owned with personal service and modern IT. The hotel is in the centre of Karlskrona and have one of Sweden's largest squares as a view.
Hotel
Entfernung: 867 Meter
The Clarion Collection Hotel Carlscrona is a stunning hotel situated right next to the sea and only 5 minutes from the train station. You certainly won't go hungry at the hotel with both complimentary Afternoon Sweets and an Evening Meal served every day.
Hotel
Entfernung: 922 Meter
Welcome to Hotel Aston, a hotel with a naval character in the middle of Karlskrona , a beautiful little hotel with a naval character in the middle of Karlskrona. Wireless internet is available in lobby and in all our rooms The continental breakfast is generous and you can help yourself to coffee and tea whenever you like. On weekdays, except during summer, we also offer waffles.