Christian Lindberg & Camerata Nordica
Kategorie:
Veranstaltungen, Konzerte & Musik
Datum: Dienstag 19 nov 2019
Music at Skärva makes a guest play in the beautiful museum hall of the Maritime Museum to give place to the legendary trombonist Christian Lindberg and eminent chamber orchestra Camerata Nordica.
2019 is it 45 years since Camerata Nordica was founded. To mark the anniversary, Camerata Nordica has invited the well-known trombonist, composer and conductor "maestro" Christian Lindberg to join on their tour. His background provides almost unlimited possibilities and he himself has chosen to show all three parts in his choice of repertoire.

In the program we find a couple of solo concerts by Telemann and L-E. Larsson. Lindberg will also conduct his own work for string orchestras and as a conclusion a very special work that Lindberg calls "Kundraan", written for trombone, strings and narrative text.

Under the direction of Cellerina Park, who regularly participates in the orchestra, Camerata Nordica will also perform a divertimento by Mozart and Serenad by Wirén.

Program
Mozart Divertimento in D K. 136
Telemann/Lindberg concert in c-moll
Larsson Concertino

- Pause-

Lindberg "Nu kommer Kokken me Öxa i Handen"
Wiren Serenade op. 11
Lindberg: "Kundraan"

Price - 360 sek
Tickets can be purchased at Karlskrona Tourist Office and online on nortic.se
Datum

Uhrzeit

Veranstaltungsort

Dienstag 19 nov 2019
19:00

- 21:00

Marinmuseum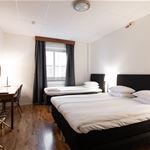 Hotel
Entfernung: 884 Meter
Just a few minutes walking distant from the Hotel you will find the city pulse with a great variety of shops, restaurants, pubs and coffeehouse. The hotel is privately owned with personal service and modern IT. The hotel is in the centre of Karlskrona and have one of Sweden's largest squares as a view.
Hotel
Entfernung: 922 Meter
Welcome to Hotel Aston, a hotel with a naval character in the middle of Karlskrona , a beautiful little hotel with a naval character in the middle of Karlskrona. Wireless internet is available in lobby and in all our rooms The continental breakfast is generous and you can help yourself to coffee and tea whenever you like. On weekdays, except during summer, we also offer waffles.
Hotel
Entfernung: 867 Meter
The Clarion Collection Hotel Carlscrona is a stunning hotel situated right next to the sea and only 5 minutes from the train station. You certainly won't go hungry at the hotel with both complimentary Afternoon Sweets and an Evening Meal served every day.