The English Navy visit to Blekinge and Hanö 18/10-18/12
Kategorie:
Veranstaltungen, Vorlesungen
Datum: Montag 14 okt 2019
Historian Marcus Bernhardsson lectures
The English Navy visit to Hanö is undoubtedly one of Blekinge's most spectacular events, of all time. Hear historian Marcus Bernhardsson talk about when maybe 10,000 British soldiers set up a trading station on Hanö, while Sweden and Britain were at war. However, no shot was fired in this "paper war", which was one of our country's last armed conflicts and that put large parts of both Blekinge and Karlskrona on the European map.

Admission 50: - Tickets can be purchased at the City Library from 30/9

In collaboration with Studieförbundet Vuxenskolan
Hotel
Entfernung: 249 Meter
Welcome to Hotel Aston, a hotel with a naval character in the middle of Karlskrona , a beautiful little hotel with a naval character in the middle of Karlskrona. Wireless internet is available in lobby and in all our rooms The continental breakfast is generous and you can help yourself to coffee and tea whenever you like. On weekdays, except during summer, we also offer waffles.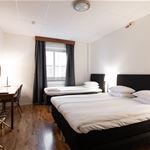 Hotel
Entfernung: 29 Meter
Just a few minutes walking distant from the Hotel you will find the city pulse with a great variety of shops, restaurants, pubs and coffeehouse. The hotel is privately owned with personal service and modern IT. The hotel is in the centre of Karlskrona and have one of Sweden's largest squares as a view.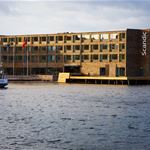 Hotel
Entfernung: 479 Meter
The Scandic Karlskrona hotel opened on 15 March 2010. The hotel has a central location by the waterside on Karlskrona's largest island Trossö. From our hotel in Karlskrona you stay close to all this naval town has to offer. Exciting activities, cultural sights and fun for the whole family are only a stone's throw away.