City ​​Library - Marianne Cedervall
Kategorie:
Veranstaltungen, Vorlesungen
Datum: Dienstag 24 sep 2019
Hervor and Mirijam - the return
Marianne Cedervall was born in Gotland, which is also the playground for the series "nice decks", the author's own expression, which is about Anki Karlsson and Tryggve Friman. The debut Svinhugg in the series about the priest daughter Miriam and the psychic Hervor has also placed this document on the birth island but in the latter parts we find the women around the world. The part that has long been described as the last, Solsvärta, is about pilgrim falcons and pigeons in Västerås. And now they are returning a sixth book, Sorgeangel, which the author will be discussing this evening.

Pre-registration starts on 17/9 at the City Library in Karlskrona.
Price SEK 120, SEK 60 for members. Tickets are purchased at the entrance.
Bring your membership card. Karlskrona municipality's Kompiskort applies.

In collaboration with Karlskrona City Library and Folkuniversitetet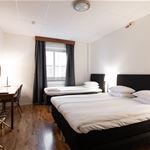 Hotel
Entfernung: 29 Meter
Just a few minutes walking distant from the Hotel you will find the city pulse with a great variety of shops, restaurants, pubs and coffeehouse. The hotel is privately owned with personal service and modern IT. The hotel is in the centre of Karlskrona and have one of Sweden's largest squares as a view.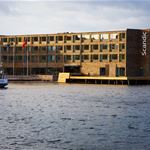 Hotel
Entfernung: 479 Meter
The Scandic Karlskrona hotel opened on 15 March 2010. The hotel has a central location by the waterside on Karlskrona's largest island Trossö. From our hotel in Karlskrona you stay close to all this naval town has to offer. Exciting activities, cultural sights and fun for the whole family are only a stone's throw away.
Hotel
Entfernung: 249 Meter
Welcome to Hotel Aston, a hotel with a naval character in the middle of Karlskrona , a beautiful little hotel with a naval character in the middle of Karlskrona. Wireless internet is available in lobby and in all our rooms The continental breakfast is generous and you can help yourself to coffee and tea whenever you like. On weekdays, except during summer, we also offer waffles.